TUGGER RESORT PROMOS!
TUG resort promos are now listed on each and every resort review page in the "Resort Promotions" tab. You can visit the resort review page and quickly view any and all available TUGGER resort promos for each resort along with classified ads, ratings/reviews, sales history, etc. Just another effort we at TUG have put forth to consolidate as much timeshare information as possible onto each resort review page to benefit all Timeshare Owners!
To have your own resort promo listed on the resort review page, simply click the "contact review manager" link on the resort review page and insert the contents of the member promo that you wish to have published on the site!
Please include what must be done to qualify (also list restrictions and time frame) for the special, RCI and II numbers if known, and any incentives received by taking advantage of the offers
and be sure to include the email or phone number you wish to be contacted by for individuals looking to take advantage of the promo on your behalf!
Here is an example of the new resort promo tab available on the Resort Review Pages!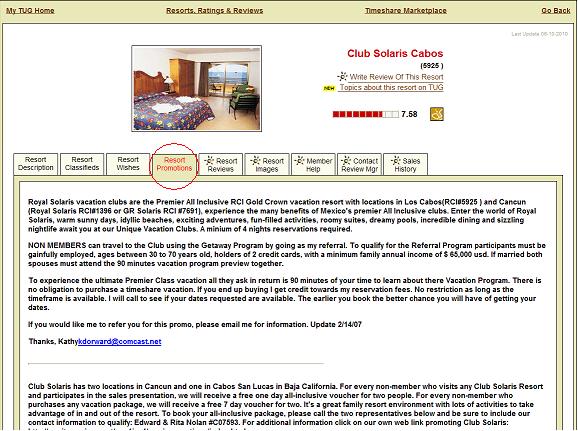 Be sure to both take advantage of these Resort Promos to visit resorts at discounted rates, as well as submit your own resort promos from your home resorts if available here!
TUG TIMESHARE RESORTS DATABASE
Send comments/feedback by email to:
tug@tug2.net
© Copyright 1993-2010 Timeshare Users Group
PO Box 1442, Orange Park, Fl 32067
Phone: (904) 298-3185
page updated June 10, 2010 by B Rogers - Send email regarding this page to tug@tug2.net